Overview
The Superadmin feature allows Organization Admins to temporarily elevate their access to Platform objects in their organization. For larger organizations with complex Platform group structures, this can be helpful for auditing and managing across teams, as well as triaging issues like database table conflicts and queueing issues.
Access and Permissions
In order to access the Superadmin feature, a user's primary group must have the Organization Admin role. In order to check whether your primary group has the Organization Admin role, you can view your group's details in Admin Center. Reach out to Client Success to request access if you do not have the required role.
If you have the required role, you will be able  to assume Superadmin Mode in the initials dropdown menu by clicking Enable Superadmin Mode.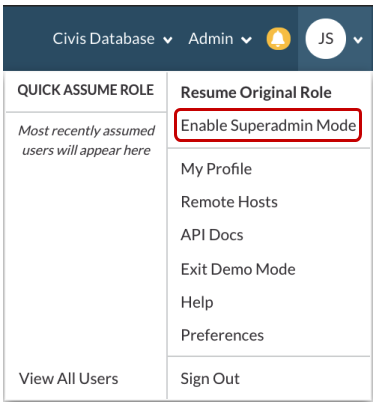 After enabling Superadmin Mode, you can disable it using the same menu to return to your normal user state. If you do not manually disable Superadmin Mode, it will expire after 8 hours. While in Superadmin Mode you will see a teal banner at the top of the screen.
Superadmin Privileges
When in Superadmin Mode, you will be temporarily granted manage permission on the following Platform objects in your organization:
Jobs (imports, exports, scripts)

Workflows

Notebooks

Services

Projects

Reports
Note that Superadmin overrides the object's direct sharing permissions to allow Organization Admins access to all objects in their organization. Superadmins can access and manage objects in their organization across Platform, including from Platform Usage Overview, the homepage, global search and object index pages.